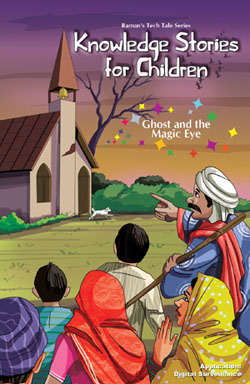 Shopping Cart for Buying E-Books
Raman's Tech Tale Series: Knowledge Stories for Children is an innovative storybook concept aimed to educate children in the high-tech area of information and communication technology (ICT) through interesting stories.
Keeping in view today's need to give technology orientation to children, a little technology element is introduced in the stories. The books will not only help children, but they will also make it simpler for parents and teachers to impart tech education to the young learners.
These are normal stories originally written for children's edutainment (education and entertainment). Without confusing the child, the technology element is kept in the background. The idea is to make the children curious to learn more about the tech aspect as they grow.
A hallmark of the books in this series is that they can be adapted for stage shows by children, TV programs for children, and short-format movies.
BUY E-BOOKS NOW
1. Ghost and the Magic Eye  (Product Code: GME-10, Price USD 2) – Preview
2. Katie Catches Blacky in Peace Forest (Product Code: KCB-11; Price USD 2) – Preview
3. Knowledge Stories for Children – Ten Tales (Product Code: TET-11; Price USD 5) – Preview

Copyright Notice: These books are only for the consumers who are paying for them. No part of these books should be copied, reproduced, translated or stored in a retrieval system or transmitted in any other form or by any means including electronic, mechanical, recording or photocopying – without the prior written permission of the publisher – Raman Media Network.
Consumers in India can also buy the PRINT EDITIONS of these books. The set of four books is priced at Rs. 450. Shipping charges: Rs. 100. Total: Rs. 550. You can send us your complete address where you want us to deliver the books. Payment by bank or cheque after you receive the books. Contact by E-mail